(Unless you've watched it over 682 times. Like we did.)
When Laajo calls to ask if he's reached work yet. Because love isn't always the big and grand romantic gesture. It's a small ritual that you can't do without even 20 years later.
Raj can rescue Simran from the cops, he can reverse the car and wait for her all over again, but the first time she apologizes- admit it- you went awww too.
Yeah, we all know he was a bit of a douche here but then he makes up to her and how. We've been waiting for a hug like that for 20 years now.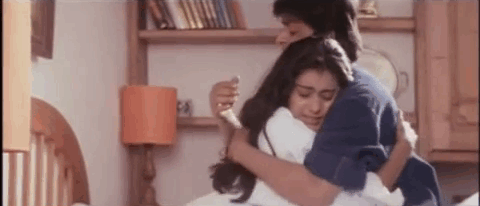 Because Raj didn't spend his time saying "loves me, loves me not" but "palat, palat".
When he knew he sucked at praying but went down on his knees anyway just to ask Jesus to grant whatever she prayed for.
The way Simran looks at Raj when he impresses Chutki is something only a rare few experience. Can we all crowd-fund his clones already, please?
Chand nikal aaya. Cheesy? Yes. Want a big slice of it (preferably fed to you by Raj)? Oh, yes.
That moment when he stands outside the door giving fashion advice to Bhuwa-ji. You just know then this one's a keeper.
Wait. Did the grumpy-cat-in-real-life aka Amrish Puri just serenade his wife with Aye meri zohra jabeen? *heartmelt*
Finally, we understand this isn't chhote but watching DDLJ for the 683rd time just wouldn't be justified without this.
comments