1. Go on a romantic get-away on a private island.
While the rest book penthouses and villas, take a step beyond and reserve an entire island to celebrate a special occasion. Located in Kollam, Kerala, this quaint island is a haven for those who truly believe in living a king sized life. Watch the beautiful sunset from the house boat, enjoy a romantic candlelight dinner in the midst of nature, star gaze into the clear sky, go kayaking in the river, fish with the locals, pluck the fresh produce of the day from the organic farm and spend the night in a luxurious wooden farmhouse.
Check out all the Romantic Surprises from Oyehappy
2. Get your adventurous side on with scuba diving and a romantic proposal underwater.
Whether it's your anniversary or you plan to propose to your fiance in a way she'll remember for a lifetime, there's nothing more interesting and unique than doing it underwater. Imagine going on a scuba diving adventure in Goa with your better half, and when she's least expecting it, you pop out a placard with a 'Will You Marry Me?" or "Happy Anniversary" written on it.
Here are some more Adventure Gifts you can checkout.
3. Celebrate your wedding all over again in the royal way followed by a stay in a luxurious resort inspired by Rajasthani architecture.
Marriage holds a very sacred place in Indian society and renewing your vows in the traditional Indian way is something that will stay with you for a life-time. Singing traditional wedding songs, the village women escort you to the beautifully decorated Ganesh Abode which has a private collection of Ganesha statues.The priest takes you through the ceremony, chanting 'shlokas'(lines) from the Vedas around the sacred fire. This is followed by a private candle light dinner in the lawns of your Villa overlooking the forest with poignant music in the background.
Read more about the Royal Wedding Anniversary Gift
4. Renew your wedding vows on a private beach wedding.
Almost everyone from the last two generations have dreamt of a wedding on a beach, with the bride and groom dressed in a beautiful white gown and black suit respectively, walking down the aisle hand-in-hand to read the wedding vows amidst the mesmerizing sound of waves and cheers of the family and friends. It's still not late even if you're already married, you can rekindle the romance in your marriage on your anniversary by renewing your wedding vows on a fairy-tale beach wedding.
Gift yourself a Wedding Anniversary Gift at a Private beach
5. Go sky-diving together, if you both are the 'adrenaline-junkies'.
You've both packed bags and set out on unplanned weekend treks, gone chasing the surfs on beaches, camped deep inside forests. Now, time to tick off yet another activity off your couple #BucketList- an exhilarating sky dive. You have to drive to the Airstrip, board the Cessna 172 waiting for you, fly 10,000 feet off the ground and make the free fall jump with a trained instructor.
Gift a Skydiving Surprise from Oyehappy
6. Enjoy a luxurious and romantic dinner in a private Cabana.
We're sure you've both gone on romantic candlelight dinners almost at every restaurant in your city. Instead of reserving a table at any restaurant, how about reserving a luxurious and fully private cabana at a 5-star hotel for just the two of you? Whether it's your anniversary or her birthday dinner, a Cabana dinner experience is one of the most beautiful ways to make it the most memorable evening of your lifetime.
Book a Private Cabana for your Anniversary Dinner
7. Watch the beautiful sun setting into the horizon from a private yacht.
You've gone on various getaways and romantic holidays across the world. Paris, Venice, Italy, Turkey, Brazil, Manali everything has been ticked off your #TravelGoals. But here's an exotic and romantic holiday experience- watching the sunset from the deck of a private yacht with your special one and having conversations over a candlelight dinner on the yacht.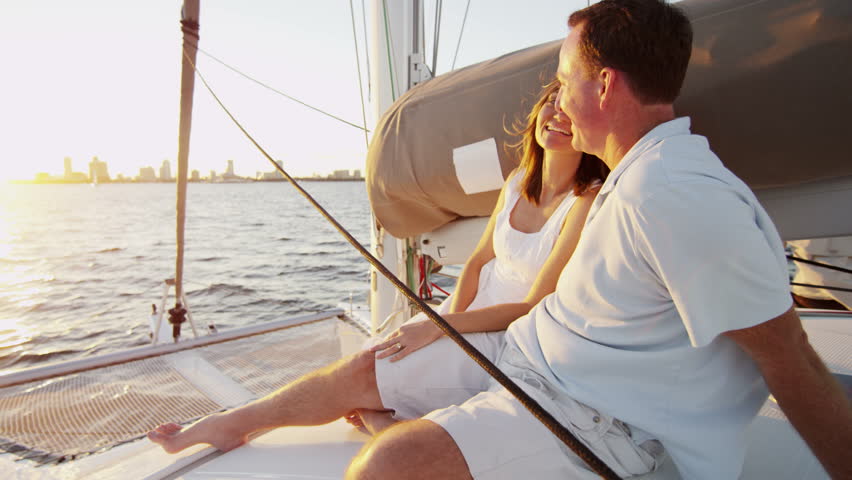 Book a private yacht for your Anniversary
8. Take your spouse on a uniquely romantic brunch under a 150 year old rain tree.
You've arranged for several romantic dinners. How about doing something different and taking your spouse on an unexpected romantic brunch instead? Nestled in the Heritage Wing of the Taj West End Hotel lies a 150 year old rain tree. You will have an exclusive table under the tree with only the birds for company.
Checkout the other Romantic Surprises for your Anniversary
9. Surprise your better half with a dinner under the helipad.
Your wife prepares appetizing food for you everyday. For a change from taking her to have dinner to the usual restaurants in the city, you can book a table under the helipad. As a couple, it's essential to spin a new wave of romance time and again and indulge in experiences way beyond ordinary. You can enjoy a breath-taking view of the Bangalore city while you dine with your special someone.
Here are the most Romantic Dinners for your Anniversary
10. Turn your regular movie date into a memorable one with a special message on the silver screen.
Everyone wants to be famous and be in the limelight at least once, for the right reasons of course. How about giving your better half a shot at fame by putting them on the big movie screen? Take your special one for a movie, make them sit through the interval on the pretext of waiting for an interesting commercial, and watch their jaws drop in surprise at the sight of their own photo and a message on the large screen!
Buy this Awesome surprise for your spouse
11. Take your loved one on a ride off the ground in your privately chartered aircraft.
"The best couple selfies are the ones taken from the sky." – said no one ever.
But you can definitely sweep your special one off their feet and give them the cloud 9 feels, by taking them on a ride in a privately chartered flight. Take your special one on a long drive, park the car in a private air strip and before they know it, they'll find themselves inside a mini aircraft, thousands of feet off the ground!
Book a Chartered Aircraft for your Anniversary or Birthday
Rekindle your romance with unique experiences on www.oyehappy.com.
comments