1. A chai date with biscuits on the terrace with your special someone.
'You, Me and Marie' – Shuddh Desi Romance.
2. Grab a sheet, some sandwiches, and head out on a small picnic at a local park.
Beware of Sharma Aunty and Uncle spotting you both during their walk in the park though.
3. Cook your favorite dishes together and have a intimate candlelight dinner at home.
We can help you set up the cosiest tent with the best of your pictures at home here.
4. And if both of you love music, there's nothing better than humming romantic lines for each other.
If you have a bad voice- it's still romantic. But you could also get a pro guitarist to do it for you here.
5. A looong bike ride on your city's outskirts without any destination.
How about a Harley Davidson for this? You can get it here.
6. Gulp down Pani Puris together on your way back.
Or how about a Pani Puri eating contest?
7. Visit a unisex saloon with your bae and get a make over of each other's liking.
Or a chocolate spa for just the two of you? Get it here.
8. Challenge your partner for a mock arm wrestling tournament.
Or play a *pun-ny* board game with them on a rainy evening, drinking hot cup of hot chocolate. Get it here.
9. Take a long stroll, holding hands after your dinner date.
The best conversations happens the best at such times.
10. And if both of you have a penchant for adventure, pack your bags and go trekking to a hill station.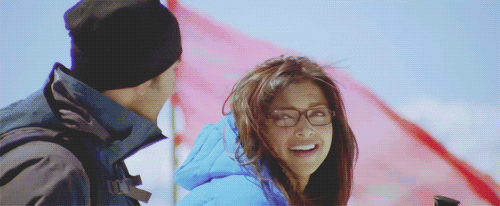 The excitement fueled with the adrenaline rush is a sure shot dose of freshness. You can get a weekend getaway to a hill station here.
11. Sit with your loved one and flip through their childhood pictures album.
You can take them on a trip down the memory lane, with a box of goodies and pictures here.
12. And if not anything, just cuddle up in each other's arms, playing your favorite romantic tunes in the background.
*Romance quotient goes up by 101 points*
You and your better half can be the Raj-Simran or Rahul-Anjali and still be in 'real' love. Visit www.oyehappy.com.
comments