1. "You've been like an angel to me today. I guarantee that in the future if you have a trying time, someone will help you out — it's how the cycle of life works."
This young boy had bought food to a poor old man who was hungry since days.
2. "I had promised to get noodles for a child suffering from HIV the next day, only to realize she passed away that night."
Since then this man and his wife has given a shelter, laughed and fed all abandoned kids with HIV. Now they're a family of 24.
3. "Of all the places that I've gone to deliver, I only got asked if I have eaten once, by a little girl."
The delivery boys who run around the city all through the day whether it's sunny or raining deserve just a little bit of kindness too.
4. "I decided to go bald to cheer my little angel who had lost her hair in her battle with cancer."
Because love beats cancer every single time.
5. "I ate chocolates daily. But the stray dogs had no food. So I decided to feed them everyday with my pocket money."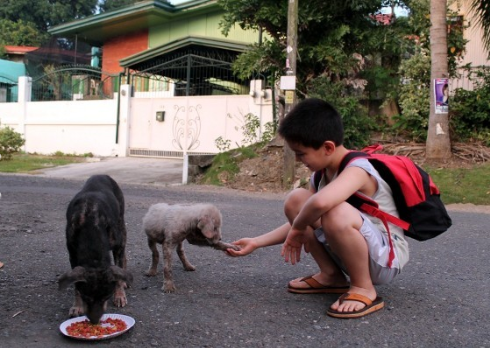 This kid in Philippines dreams of setting up his own animal shelter one day.
6. "I wake up at 4 a.m. every Saturday and cook for them, as I would for my own children and this is the highlight of my life."
Every weekend this housewife cooks their favourite foods and feeds the children of an orphanage.
7. "She died, I survived. I wish traffic was managed better that day."
Ms. Francis from Ghaziabad turns up every morning to manage the traffic at the spot where her daughter died in an accident.
8. "I was married off while I was at school. When I told my husband that I wished to study, he saved for a year and enrolled me in a school. My husband is a coolie."
That little girl who was married off is now a graduate with a government job and is still happily married.
9. "After my dad passed away with cancer, I adopted 28 cancer affected children from an orphanage who couldn't afford treatment."
Geetu Ma as she's fondly called by her children, also enjoys cooking and is probably an angel in disguise.
10. "The Tsunami took away my children. We didn't have a reason to live. So we got home children who were orphaned in the Tsunami."
Karibeeran and his wife from Tamil Nadu brought home 12 orphaned kids and now are a family of 30.
Make someone smile today. Visit www.oyehappy.com.
comments