1. Walk hand in hand tasting the street food, buying jewelry and end the night with the famous Irani chai through the streets of Char Minar.
2. What could be more romantic than enjoying a snowfall and having a chai date in a world covered with tonnes of snow?
Know more about how to surprise your loved one.
3. Watching movies are the old-school recipe for romance. Add a twist to it by watching your favorite movies together in a private theatre.
Book this amazing surprise for girlfriend.
4. If long drives are your thing then Karimnagar is the place for you. If not, the sight of Ramagundam dam will make it worth the long drive.
Get a Harley Davidson to surprise your girlfriend for a long drive.
5. Experience an exclusive candlelight dinner inside a swimming pool reserved entirely for the two of you.
Know more about this valentines day surprise for girlfriend.
6. If you're the true Hyderabadi couple, then you'd love to sail in a boat at midnight in the Hussain Sagar lake and see a spectacular view of the lighted Buddha statue.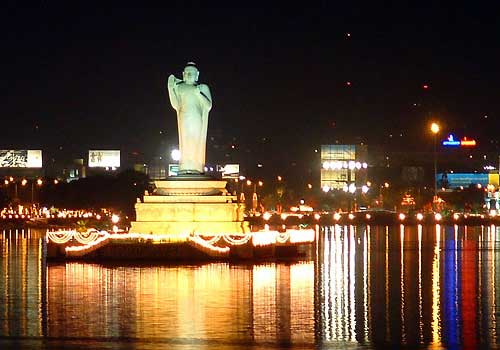 7. Cherish romantic conversations with your better half on a royal dinner date in a private Cabana.
Know more about this romantic dinner date with girlfriend.
8. Do both of you love adventure? Then learn the basics of horse riding under the guidance of a professional.
Find out more about this valentines day surprise for your girlfriend.
9. Or a thrilling treasure hunt designed just for the two of you will add the perfect slice of adventure to your date.
Book this unique experience as a valentines day gift for boyfriend.
10. Reserve an exclusive garden at a 5-star and experience the luxury of a private candle light dinner close to a waterfall.
Find out more about this candlelight dinner with loved one.
11. Want to try something totally offbeat? Go on a cycling tour in Hyderabad zoo.
12. Have an amazing date night at home by filling your room with colorful balloons and pictures. Pair it up with wine to make it a classic romantic experience.
We'll help you fill your room with balloons. Find out more here.
13. Still believe in old-school romance? Then have a romantic chai date tasting organic flavors of tea with 'mann ki baatein'.
Know more about this awesome valentines day surprise.
14. Spend an hour with your partner amidst furry hugs, excited tail-wagging and sloppy kisses from puppies.
Know more about this surprise for your valentine.
15. Luxuriate in a romantic candlelight dinner under the starry sky, with a breathtaking view of the city.
Find out more about this romantic candlelight dinner with loved one.
Looking for more wonderful and unique date options in Hyderabad or other Indian cities? Visit www.oyehappy.com.
comments