1. Appily Yours
Is he someone who is glued to his phone even when you are on a romantic candlelight dinner? If yes, here's the best Valentine's gift you can order online for him – an amazing and romantic app created entirely for him, customized with fun quizzes, puzzles, messages and pictures.
Order here.
2. Land on the Moon
Along with all your "Good Morning" and "Goodnight" you've told him that you love him to the moon and back. Prove it right by gifting him an acre of land on his name, this Vday.
Buy here.
3. Growing old together
You've realized he is your soulmate and the one you want to grow old together with, seen infinite future dreams of the life together. There's no better Vday gift for him than this graph that gives him a sneak peak into your future together.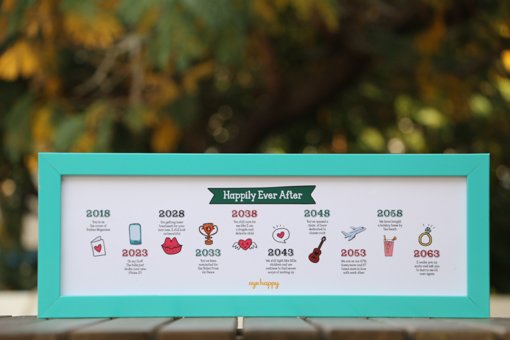 Order here.
4. Dice & spice
Bored of candlelight dinners, movie nights as date ideas? Here's a naughty way to spend an evening with him – a kinky board game with "truths" "dares" and "redeemable coupons". We bet, he'll love this as a Vday gift!

Buy here.
5. Lovingly yours
Photo frames are always the go-to gifts for every occasion. And you definitely believe in it. How about making the good old idea of gifting a photo frame surprisingly special by spelling both your names with your best pictures together?
Order here.
6. 2 States mug
If you're from Chennai and he's from Delhi or you're from Gujarat and he's from Kolkata, this cute customized mug will serve as a reminder that "distance" is just a word for the two of you.
Order here.
7. You and I
Surprise him with a hamper straight from Cupid's warehouse. From handcrafted mail boxes and messages to cuddle contracts, this hamper is specially designed to make him blush for an entire day.
Order here.
8. Mapping hearts
In a long distance relationship? But, don't you agree 'distance' is just a word for the two of you bound by love? Here is a heart frame with the two cities you both hail from or are residing now.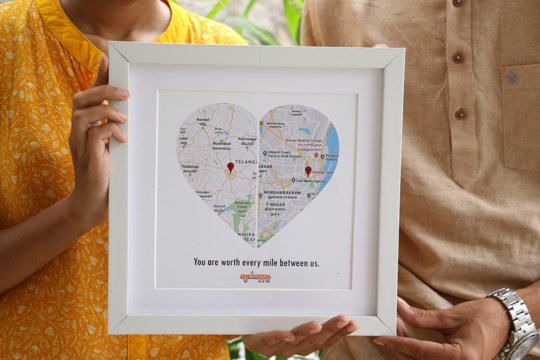 Order here.
9. Memories in spotlight
You've made a thousand memories together in your journey with him. And we're sure you have a million pictures of those memories. Take him on a trip down the memory lane of your amazing relationship with this unique frame that lights up with the flick of a button.
Order here.
10. Letter in a bottle
There are a few occasions like Vday that demands more than a "Happy Valentine's Day, my love!" text or wish. Make your Vday wishes to your better half romantic and special with a letter inside a vintage bottle.
Order here.
11. Our book of adventures
Have a love story that could be the #RelationshipGoals? Get your fairytale like love story scripted in a uniquely customized book with a hidden surprise as a Vday gift for him.
Order here.
12. Valentine's day chemistry
Regular greeting cards are booooring! Remind your love of the awesome chemistry you share together with this unique card that lights up with a flick of a button.
Order here.
Didn't find the best Vday gift for him that you can order online? We have more in stock. Check them here.
comments