Finding the perfect Valentine's Day gift for the most special man in your life is definitely a task every year. We hear you, ladies. You want to be creative, thoughtful, romantic and want a personalized gift for him.
Photo frames, handwritten letters, flowers…you've given him all of these. And now finding yet another uncommon Valentine's day gift for him is difficult? We at Oye Happy have curated some amazingly romantic, cute, naughty gifts for your significant other, for this season of love.
1. Love Contract
Hold your special man legally responsible for being your Valentine for a lifetime by binding him with this hilarious contract.
Order this here.
2. Appily Yours
Have you seen him glued to his phone even when you're with him on the most romantic date or getaway? This Valentine's day, surprise him with an amazing and romantic app created entirely for him. The app is customized with a fun quiz, puzzles, messages and pictures.
Book here.
3. Hugs & Cushions
Late night chats, and he wishes to pop out of the phone and give you a tight hug? For the times he cannot do that, gift him a cushion with both your names and a date significant to both of you.
Order this here.
4. Land on the Moon
You've told him after the end of every chat that you love him to the moon and back. Time to prove it right! Book an acre of land on the moon on his name, this Valentine's day.
Order here.
5. Mapping Hearts
In a long distance relationship? But, don't you agree 'distance' is just a word for the two of you bound by love? Here is a heart frame with the two cities you both hail from.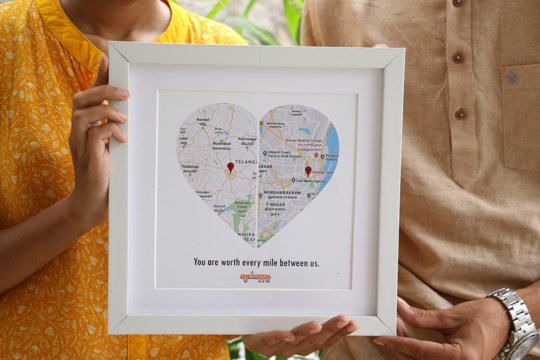 Buy here.
6. You & I
Surprise your bae with a hamper straight from Cupid's warehouse. From handcrafted mail boxes and messages to cuddle contracts, this hamper is specially designed to make him blush for an entire day.
Buy here.
7. Growing Old Together
You've realized he is your soulmate and the one you want to grow old together with, seen infinite future dreams of your life together. There's no better Valentine's day gift for him than this graph that shows a sneak peak into a loving future.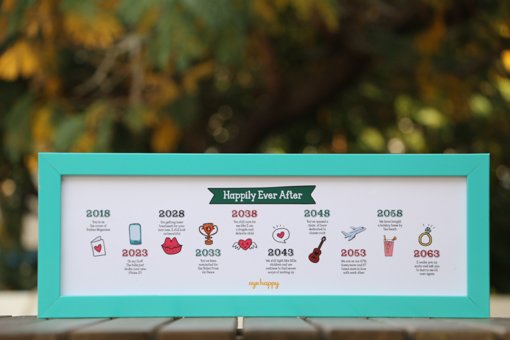 Order here.
8. Dice & Spice
Bored of movie nights, candlelight dinners as date ideas? Here's a naughty way to spend an evening with him – a kinky board game with "truths", "dares", "challenges" and "redeemable coupons".
Order here.
9. 2 States Mug
If you're from Chennai and he's from Delhi, this cute surprise will serve as a reminder that "distance" is just a word for the two of you.
Order here.
10. Lovingly Yours
Photo frames are always the go-to gifts for every occasion. And you definitely believe in it. How about making the good old idea of gifting a photo frame surprisingly special by spelling both your names with your best pictures together?
Order here.
11. We Fit Perfectly
If you both define what the millennials call the #CoupleGoals, here's a perfect Valentine's day gift for him – a pair of t-shirts you both can wear and flaunt your chemistry with.
Buy here.
So ladies, what are you waiting for? If you loved these gift suggestions, we have more in store. Check them out here.
comments